WELCOME TO JEMSTONE POOLS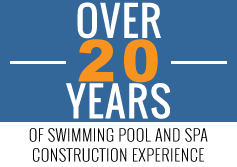 With Jemstone Pools, you will receive premier customer service during all phases of swimming pool and spa design and construction. Our friendly approach that includes a thorough one-on-one discussion and documentation, making your new pool or spa construction an informed and pleasant experience. Our market includes finished swimming pools and spas in Hillsborough, Pasco, Pinellas counties.
Already have a pool or spa?
Jemstone is your best choice for top quality renovations and remodels, equipment upgrades and replacement, including new interior pebble finishes, salt chlorine generator, and our award winning weekly pool maintenance service!
" I recently had the pleasure of working with Myron and Bob from Jemstone Pools. It was his hard work and dedication that helped us give our back yard the new pool we wanted for years. Thanks to Myron, Bob and Joe. I hope we have the chance to refer friends to your company in the future. "
Laura B
Lakewood Ranch, Fl
" Jemstone Pools has built several pools in our community in recent years. We watched several of their projects on our street and spoke to the owners afterwards. It was because of the good reports from our neighbors that we had Jemstone build our pool and deck. We have no regrets; Thank you Myron and Jemstone Construction for our beautiful new swimming pool! "
Mr. and Mrs. Phillip B
Trinity, Fl
" Not only did the Jemstone crew replace the sod but installed bushes that exceeded in quality what I had there before. We were so impressed we later contracted Jemstone to remodel our 20 year old pool. The results were fantastic; our pool looks brand new! Thank you once again for your absolute professionalism and top quality workmanship! "
Dr. Harold B
Trinity, Fl
" Choosing Jemstone to build my pool has been the best choice I've made for my home. Bob worked with me personally to design the pool of my dreams, and Joe and his crew fit it into my backyard perfectly. "
Marvin G.
Tampa, Fl
" Jemstone has been such a blessing. My new pool and deck are my favorite parts of my home. The designers were so patient with me and worked through what I wanted step by step. I was delighted to get the chance to meet with the designers to really discuss my pool and deck until we knew it was perfect. "
Isabella J.
Trinity, Fl
" I've always had an idea in my head about what I would want in a perfect pool. Until I called Jemstone, I really didn't think it would be possible to achieve my dreams, but what they designed is now a reality in my backyard. I recommend Jemstone Pools highly to anyone thinking about a pool. "
Jim D.
Trinity, Fl
" "Thank you Jemstone for a beautiful pool and spa. The attention to detail was impressive even if it took a little longer than we had hoped for. I would definitely recommend your company to my friends and neighbors." "
Pat B.
Sarasota, Fl